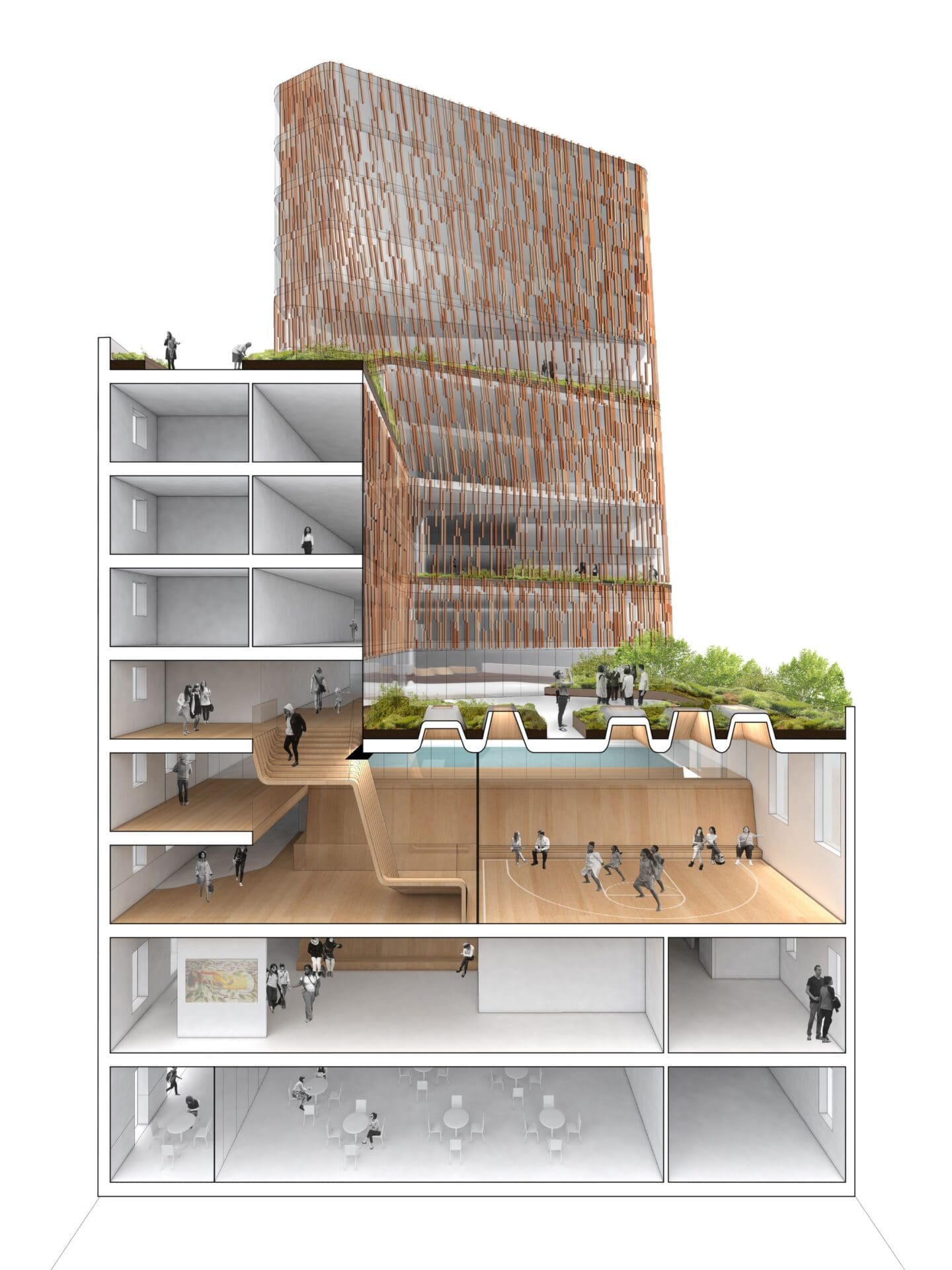 This project is the design of a process that enables broader and more inclusive participation in all aspects of the development and future occupation of The Women's Building. Our team of designers, engineers, activists, and artists ensures that throughout this process, we are imagining the most creative and sustainable ways to support and enrich this newly established center for girls' and women's rights.
The transformation of this building from a space for community (YMCA) to a space of isolation (Bayview Correctional Facility) back to one of community, collective growth, and partnership (The Women's Building) is a powerful story about a change in ethics and a vision for equity, support and justice. The history of the building informs our design both inside and out.
There are three unique centers for change in our design—a Center for Community, Center for Wellness, and Center for Activism. Each forms a nexus of activities around their particular focus, and together they shape a vertical neighborhood where partnerships can be forged, collaborations explored, and resources shared. Each center establishes an entirely new paradigm for growth and support while linking the interior spaces to this unique site in the city. The façade of the addition is terracotta, formed through advanced digital technologies that embrace the future, while connecting, through its material, to the history of the existing building and its rich architectural detailing. The Women's Building completely transforms a structure with a history of incarceration and isolation into one of connections and shared goals.
Karen Fairbanks, Scott Marble, Nicholas Desbiens, Keenan Korth, Lauren Espeseth, Jean Kim, Spenser Krut, Benjamin Hait, Jason Roberts, Peter Adams
Recognition
Shortlist Finalist, International Design Competition
Project Sponsor
NoVo Foundation; Goren Group